Calendar - Camera & Photo Library Icon
Pick Photo from Photo Library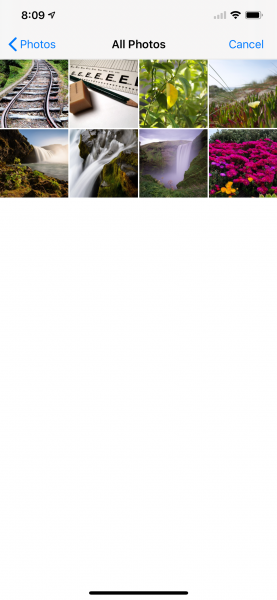 Open Notewrap. Tap Camera or Photo Libarary icon as shown in red circle on the calendar home screen,  to compose a new Photo Note.  If you tap the Photo Library icon e.g it will present the Photo Library which will display all your photos, pick a photo and it will present a new Compose Photo Note View with the photo you just selected, tap the title placeholder to enter your title and tap the note placeholder to write notes about your photo.
Add or move a Photo Note to a notebook
To add or move a Photo Note to a notebook simply go to that particular Photo Note, on the bottom of the Photo Note there is a notebook row which displays which current notebook the Photo Note belongs to, tap that row and it will display the picker view with the list of notebooks, simply roll the drum to pick a new notebook for the note or pick None to remove the Photo Note from the current notebook. Tap on the Notebook row again to hide the picker view.